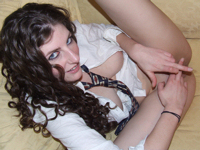 On September 8th 2007, Sabrina Deep will break the record for the WORLDS LARGEST GANGBANG ever broadcast live on webcam as a celebration of her birthday which falls 3 days later, on September 11th.
Sabrina Deep Productions announces that the event will feature at least 80 men banging Deep in an 8 hours time-frame and that the whole plot will be broadcast live on webcam, no-stop, to all her website members, her affiliates and a few media representatives.
"The peculiarity of this event is that the men will not be given any time-limits to fuck me, like it happens in the world largest gangbang events," Deep said in a statement: "if they can last for 8 hours, they can fuck me for 8 hours, they can have repeated orgasms and they can fuck any of my holes."
"It's not about numbers, it's about quality, for me!" Deep continues. "It's a present i wanted to give to myself and to my fans to celebrate my birthday and one year of activity and all i expect it is to orgasm and to squirt for the whole event. In 3 words: i hate lube."
Being one of the few adult models who date their fans, Deep sent all her current site members an automatic invite to the event which will be held in London, UK. All the guys taking part to the event are blood-tested and they will be supplied condoms as well.
Sabrina Deep (http://www.DeepSabrina.com) also announced that the event will as well be filmed and a DVD set with the whole 8 hours action will be released, uncut, later this year. The movie will be also made available online for streaming pay-per-view, rental and download simultaneously with the street date. Deep said that the company is currently in negotiations with distributors and is still entertaining offers.
A limited amount of DVD sets, will be given away for free, shipping included, to all Deep's website members who request one in her members area by September 8th 2007.
The event will be the largest gangbang ever broadcast live on webcam and the longest adult webcam show ever held by a solo girl. The guys will show up in waves of 10 per hour and they will be allowed to repeat their performances as many times as they want. "I don't know what the guys will want me to do," Deep says. "But being a nympho and a cumaholic i know for sure what i'm going to take from them."
Deep debuted as an adult model in August 2006 and immediately gained popularity due to her 6 foot tall slim silhouette and natural DD breasts, to her deep-throating performances and to her attitude for dating her fans.
More information about the event can be found at the OFFICIAL GANGBANG EVENT PAGE