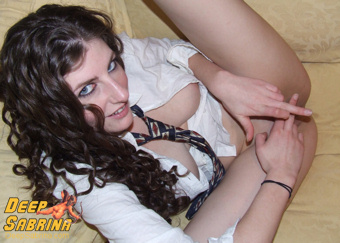 A fan of mine requested a show with an ice dildo. My first reaction was Yes!!! (I am so willing to please) but then I started to have reservations about shoving something so cold deep into the warmest part of my body. After rolling it around my brain for a day or two I remembered my motto to try everything twice so I made my dildos, freezing a condom filled with water and set a date for the show.
He suggested that I start by giving my clit a good rub with it to get me stimulated; the crazy crazy coldness made my clit plump and my pussy contract...kind of like my nipples reaction to a drop in temperature. I was so tight I felt like a virgin all over again rofl! The ice melted against the warmth of my clit and lips and I could feel the cold drips warm up as they slid down towards my holes.
There were so many sensations at once. With my clit swollen hard and a bit numb I plunged the dildo into my tight pussy and I scream with both pleasure and shock!. I did not want to stop thrusting it in and out, the melting water and my own juices mixed together and I was wetter then ever as I fucked myself. The tightness of my cunt pushed my g-spot down hard on the ice and I was soon quivering with an intense orgasm. I would like to try it again one day, perhaps sitting on the beach during a heat wave as a means of cooling myself. SMACK! SMACK!!